Born on 13 December 1960, Vlimmeren (B).
1978 – 1981: study ergotherapy, SHIPMB, Ghent.
1983 – 1985: study art therapie, De Wervel, Driebergen (NL).
1987 – 1990: study painting, Alanus university of Art and Social Sciences, Alfter bei Bonn (D).
2004: Diplom-Malerin, Alanus University of Art and Social Sciences, Alfter by Bonn (D).
2005: Process Trainer, NALM (New Adult Learning Movement)(D).
Curriculum
2023
7 Mei – 18 juni 2023 Tentoonstelling: "Sag mir wo die Blumen sind, wo sind Sie geblieben?" groepsexpo galerie Debuck, Gent
6 mei – 21 mei 2023 'kanttekening' groepstentoonstelling artobe+, unit 2 Wechelderzande
2022
Panta Rhei, Helena Schepens, May Oostvogels, Jaak Hillen, april 2022, artObe+, Wechelderzande, www.artobe.eu
Publicatie " zelfportret" met interview door Sarah Poesen in magazine KUNSTLETTERS #019, oktober- december 2022
2021
2020
P U B L I C A T I O N
[Le parole, le immagini del desiderio] Corona project S&H De Buck Gallery Ghent Belgium 2020.
2018
"Criatura" Ausstellung Bilder und Zeichnungen, 19 May – 3 Juni 2018, Kulturzentrum 3klang, Laufen (D)
Installation May Oostvogels, Anneke LauwaertJuly, August Gallery S&H De Buck, Ghent, www.galeriedebuck.be
Group exhibition " Intimacy" December Gallery S&H De Buck, Ghent
Publication: [Intimacy] catalogue exhibition ⋈ Galery S&h De Buck Ghent Belgium.
2017
Installation January till February in Gallery S&H De Buck, Zuidstationstraat 25, Ghent , www.galeriedebuck.be
Exhibition 1.4 – 18.5.2017 Gallery Blauer Ezel, Matthiashofstrasse 2, 52064 Aken (D)
Exhibition 15.8 – 3.9.2017 In den bouw, Zomerstraat 85, 9270 Kalken (B), www.indenbouw.be
2016
May Oostvogels is the artist of the month February 2016. www.zebrastraat.be
Exhibition in 'Foyer CC. De Werft, Geel.
Exhibition " Criatura" Sint Amanduskapel Campo Santo, Sint Amandsberg Ghent
2014
Landed, international land-art project Beerse (BE) together with 9 other artists.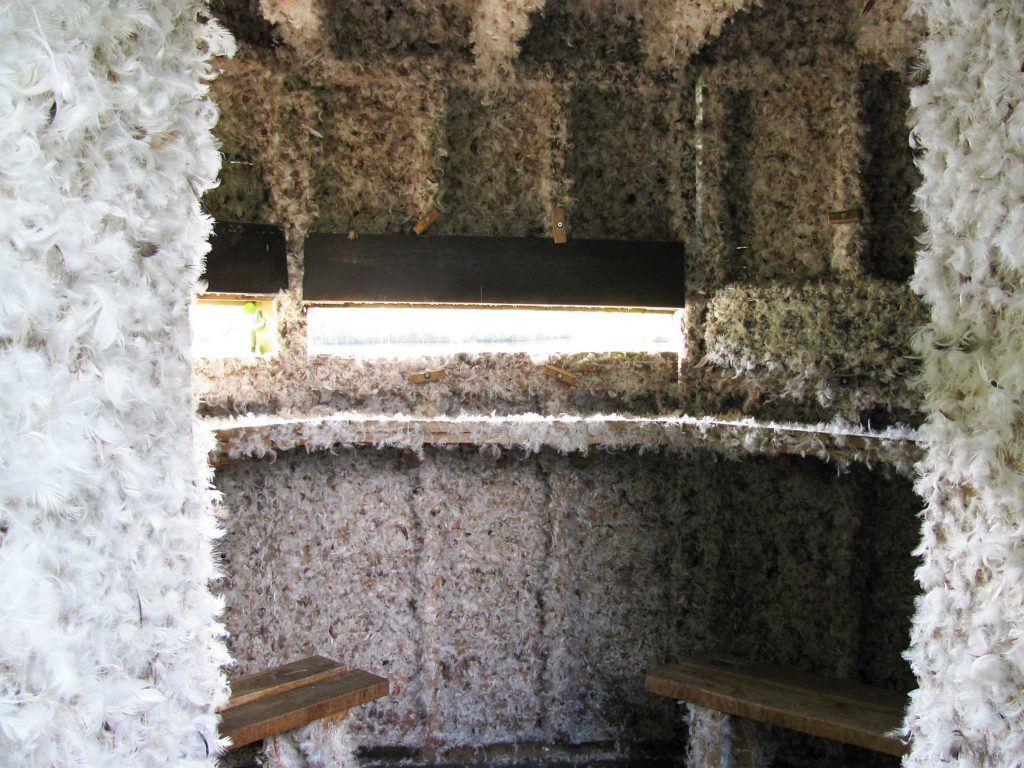 2012
Opening own exposition space, artobe+, UNIT 2, Heihoef 3, Wechelderzande. www.artobe.eu
2010
Group exhibition in Gallery "Caviart" in Ittre.
Exhibition, Arboretum Kalmthout.
2009
Exhibition, CC. De Werft, Geel. "mater"
2008
Exhibition, De Brug, Antwerpen
Exhibition, Pinart, Mechelen, i.s.m. Gynaika v.z.w.
2007
Group exhibition, Hofke van Chantraine, Oud Turnhout
Group exhibition, Gallery Dessers – Beeck i.s.m. Gynaika vzw, Keerbergen
2006
Exhibition, De Bijl , Zoersel
2005
Group exhibition, Beelden Biënnale, Beerse
2004
Group exhibition, Landgericht, Bonn (D)
2003
Group exhibition, Gallery De Laro, Meerle
Exhibition, stadhuis van Terneuzen (NL)
Exhibition, Huis Hellemans, Edegem
2002
Art commission, Van Hoecke NV, Claire Bataille / Paul Ibens building, Sint-Niklaas
2001
Group exhibition, Centrum voor Gelijke Kansen, Brussel
Group exhibition, Geuzenhuis, Ghent
Group exhibition, Gallery De Lage Rooy, Meerle
Group exhibition, CJK, kasteel Claeys-Bouüaert, Mariakerke(Ghent)
2000
Exhibition, de Refuge, Antwerpen
Laureate kempense finale kiezen voor kunst, CC de Warande, Turnhout
Group exhibition, CC. de Warande, Turnhout
Exhibition, CJK, Centrum voor Jonge Kunst, kasteel Claeys-Bouüaert, Mariakerke(Ghent)
National end exhibition, Kiezen voor Kunst, de Lakenhalle, Ieper
Group exhibition, Gallery De Lage Rooy, Meerle
1999
Group exhibition, Salon Taxandria, CC. De Warande, Turnhout
Exhibition, Atrium van de Fabri-groep, Berchem
Group exhibition, St. Ulrichkirche, Rathmannsdorf ( DL )
1998
Group exhibition, Galerii Miejskiej Arsenal, Poznan ( PL)
1997
Group exhibition, Kiezen voor Kunst, De Warande, Turnhout
1996
Selection, Dirk Bouts-prijs, Leuven and group exhibition, Conservatorium, Leuven
1995
Group exhibition, 5 kempense galeries, Cultureel Centrum De Warande, Turnhout
Exhibition, De Slijperij, Geel
1993
Exhibition, Het Muizelhuis, Hulste